Experience LBI
Recreation
Mini Golf, Fishing, Parasailing,
jet ski, Surfing and more
Fun Activities for Everyone
Explore Recreation on LBI
Waterman Charters
Lite tackle and inshore fishing charters. New Jersey's number one guide for topwater tuna and striper fishing.
Phone: 609-548-1584
Pyour Core
266 Feet
Pyour Core is a pilates and group fitness studio located right across the street from Hotel LBI! With many different class types and times, Pyour Core makes it easy for you get a workout in while staying with us!
Address: 347 W. 8th Street Ship Bottom NJ 08008
Phone: 609-494-3500
South End Surf N Paddle
11th year running Kid's Surf Camp (3 day weekly surf camp for $120), Surf lessons for kids and adults, as well as Standup Paddleboard (SUP) Eco-tours. Our prices have remained the same! Our instructors are top notch with a love of the water they are eager to share with you!
Address: 220 S Bay Ave, Beach Haven, NJ
Phone: (609) 492-8823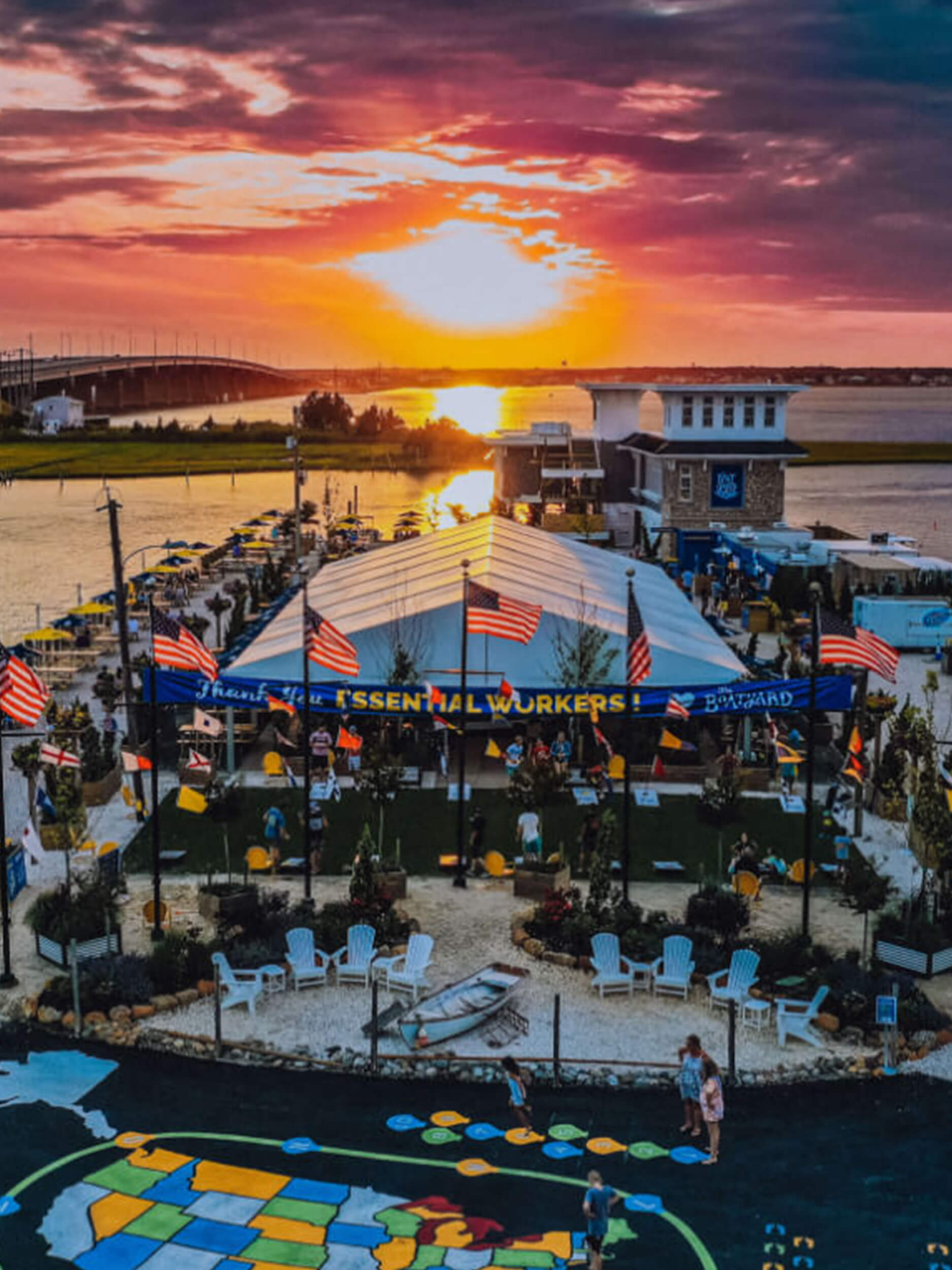 The Boatyard
1 Mile
The Boatyard is a gathering place to come together for casual food and drinks, meet up with family and friends, play lawn games, and enjoy a day out on the bay.
Address: 2304 E Bay Ave, Manahawkin, NJ 08050
Phone: (609) 494-1371
Causeway Marina Boat Rentals
1 Mile
Causeway Marina offers skiff, pontoon, and kayak rentals, along with a baithouse full of all the fishing essentials you'll need for a day out on the bay.
Address: 2304 E Bay Ave, Manahawkin, NJ 08050
Phone: (609) 494-1371
Cruisin' Tikis – Long Beach Island
1 Mile
Cruisin' Tikis is a one of a kind experience you don't want to miss out on while visiting LBI. Choose from a variety of cruises including; a Brunch Cruise, Long Beach Island Tiki Fun Cruise and a Sunset Cruise departing dockside from The Boatyard Marina! Pack a cooler filled with your summertime favorites, enjoy scenic waters surrounding Long Beach Island, stop at the Ship Bottom Sandbar where you can take a quick dip, all while listening to your favorite tunes.
Address: 2200 East Bay Ave, Manahawkin, NJ 08050
Phone: (844) 524-8454
LBI Parasail
9.2 Miles
Enjoy the incredible views of LBI's beaches as you gently glide above the coastline.
Address: Lighthouse Marina, W 6th St, Barnegat Light, NJ 08006
Phone: (609) 361-6100
Hours: 8am-8pm Memorial Day weekend through Labor Day
Miss Barnegat Light
8.4 Miles
The beautiful views of the Barnegat Lighthouse and Long Beach Island's breathtaking sunset are a must see during your visit to LBI. Board the Miss Barnegat Light for a sunset cruise, ecology/oceanography cruise, a fluke, seabass, striper, or off-shore tuna trip.
Address: Viking Village, 1801 Bayview Ave, Barnegat Light, NJ 08006
Phone: (609) 494-2094
Escape LBI
6.9 Miles
An interactive game room with 60-minutes of mind-bending puzzles that will challenge your group to work together in order to escape!
Address: 905 N Bay Ave, Beach Haven, NJ 08008
Phone: (609) 467-2583
Hours: Reopening Spring 2021
Ocean Acres Country Club – Golfing
9.2 Miles
Home to over 6,000 yards of green and just a short, 9-mile drive down Route 72, the country club offers great views and an 18-Hole Championship Golf Course. Golf clubs and carts are available for all guests to rent.
Address: 925 Buccaneer Ln, Manahawkin, NJ 08050
Phone: (609) 597-9393
Hours: Sunrise to Sunset
Flamingo Miniature Golf Course
0.5 Miles
Address: Long Beach Blvd & W 5th St, Ship Bottom
Phone: (609) 361-1874
Hours: 9:30 am - 11 pm
The Sandy Avocado Surf Camp
6.9 miles
The Sandy Avocado Surf Camp provides daily & weekly camps for ages 7 & up. Our camp includes surfing, skimboarding, yoga, and art, and we still offer private lessons for all ages!
Address: Taylor Ave, Beach Haven, NJ 08008
Phone: (609) 290-4797
Edwin B. Forsythe National Wildlife Refuge
0.5 MILES
Visit acres of southern New Jersey coastal habitats by bike. Rent bikes from Hotel LBI and explore the refuge.
Back to All Categories
Contact Us
Contact us for more information about Hotel LBI.
Explore Dining at Hotel LBI
Four bars offer premium cocktails in a variety of settings